9 Tips for Your Home Office & New Interior Doors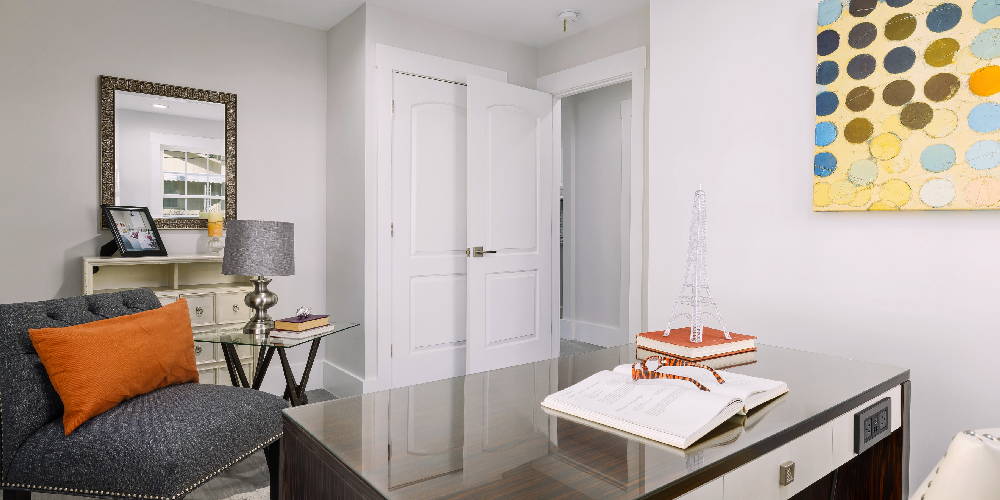 Step into the future of remote work with the ultimate home office makeover! As an avid enthusiast of interior design and emerging trends, I know just how crucial it is to create a sanctuary that fosters productivity and inspiration. With the remote work revolution in full swing, it's time to invest in your work-from-home haven. One game-changing move? Transform your space with stylish and functional interior office doors that will leave you wondering how you ever lived without them.
Choosing the Right Door Style
There are various door styles to choose from, including traditional, modern, and rustic. It's essential to select a door style that complements the overall aesthetic of your office space. A new door can improve productivity, create a more professional image, and boost morale. Enhancing your home office with an update can infuse fresh energy into your daily routine, making it a more productive and inspiring space for work or hobbies.
Start by Decluttering
To begin the transformation, start by decluttering and organizing your space. Investing in storage solutions such as filing cabinets, cord organizers, and storage containers can help create a more organized and efficient workspace, leading to improved productivity and reduced stress.
Upgrade the Way You Work


Investing in quality furniture, such as a comfortable chair and desk, can help prevent back pain and improve posture. Consider adding a standing desk or adjustable monitor stand to help reduce eye strain and improve circulation. Upgrading your furniture can also help create a more professional, clean, and welcoming atmosphere.
Pops of Color
Adding a pop of color can help energize your workspace and boost your mood. Be mindful of the colors you choose and their impact on your productivity. Blue and green can help promote focus and calmness, while red and orange can stimulate creativity and energy.
Accessories


Adding accessories to your office space is a great way to update and refresh your work environment. Plants can add a touch of nature to your space while also improving air quality and productivity. A charging station can help keep your workspace organized and ensure that your devices are always charged and ready to go. A whiteboard or corkboard can be useful for brainstorming, organizing ideas, and keeping track of important deadlines. Additionally, adding a rug or some throw pillows can make your workspace feel more cozy and inviting.
Let in Natural Light with Glass Interior Doors


Glass office doors have become increasingly popular in recent years. They can create a modern and sophisticated look in your workspace while allowing natural light to pass through. Clear glass doors are great for a bright and open office environment, while frosted glass doors provide privacy while still allowing light to pass through.
Modern Interior Doors for a Modern Home Office


Modern beveled shaker interior doors are an excellent choice for upgrading the aesthetic and functionality of your home office. These doors feature a contemporary take on the classic shaker style, with angled edges that create a sleek, modern look. The beveled edges on the doors not only add a stylish touch but also help to soundproof your workspace, minimizing outside noise and distractions.
Mix and Match Your Interior Doors
Suppose you have discovered the ideal door style for your entire house, but you desire a frosted or glass door for your home office. One Day Doors and Closets can help you achieve this look, whether you prefer a more classic or contemporary interior design scheme throughout your home. Our interior door specialists can help you customize your interior doors to meet your specific needs.
Final Touches
In addition to replacing your interior office door, consider adding a desk pad, new lighting, shelving, and artwork to update and refresh your workspace. These small changes can make a big difference to your productivity and overall enjoyment of your home office space.
At One Day Doors and Closets Sacramento, we provide expert advice on the perfect interior doors for your home. Contact us today to start transforming your home office into a source of inspiration and sophistication.