New Designer Doors - Rediscovering Home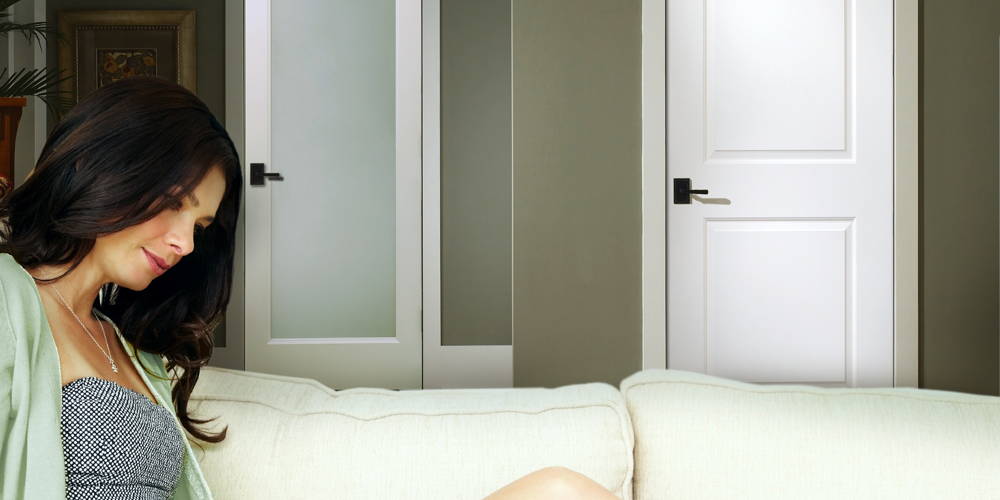 Rediscovering a Home
After dropping Scott off at college a few hours away, Ella went upstairs to put away a few things. After years of activity in the house, including the recent excitement of high school graduation and the send off to college, the house seemed eerily quiet. As she sat on her son's bed, she began to look around. Trophies filled the bookshelf, and the door of his bedroom was plastered with stickers, posters and other memorabilia.
It was suddenly evident that the house wasn't the tidy home it was when they first bought it, back when they had time to carefully plan the decor of each room. Ella felt a little spark of excitement that this could become her home again - carefully decorated with her unique taste. This project would also give her something to keep her mind busy and off the fact that her little boy was all grown up.
She began to carefully remove the posters from her son's door and saw the pencil marks where they would measure his height on every birthday growing up, until he'd outgrown the tradition.. Memories of fun family moments raced through her mind— all the laughs, love and excitement they'd shared over the years.
While remodeling her son's room was necessary, it wasn't easy. She wanted to preserve some of the memories, but get rid of the obnoxious decor and update the room. With the help of her husband, Jim, Ella removed the twin beds, boxed up the toys for the grandkids to enjoy one day, and created an extra guest room and the craft room she'd always dreamed of. But they weren't quite done. The signs of childhood and years of life still remained on the doors of each room.
Removing the last layer of stickers from Scott's doors revealed the plain palette of the old door, painted 18 years ago when they bought the home. Ella couldn't imagine painting the doors, and wasn't sure if a new coat of paint would really make that much of a difference.
She decided to have her doors replaced with a modern style that reflected her personality and the architecture of her home. A designer from One Day helped her select new locksets to bring a focused design to the home, a welcome upgrade from the bland, old knobs from years ago.
In just a few hours, Ella and Jim were able to change out not only the doors in their son's room, but all of the other doors in their home as well, creating a surprisingly new look throughout their entire house. Ella was delighted with the transformation, and even more so when Jim presented her with a new piece of art for the craft room…a framed cross section of the old door showing their son's growth progression over the years.
She was amazed at the easy process, and especially with how her home was completely transformed in just a few hours using a professional service. There was no mess or dust to deal with, and the doors were the perfect look and fit.
Something as seemingly simple as new interior doors allowed Ella to rediscover her home and renew a sense of pride she hadn't felt for 18 years.
One Day helped Ella bring new life to an old cherished home, where many memories were made…and many more are to come.