Choosing the Best Bathroom Doors for your Dallas Home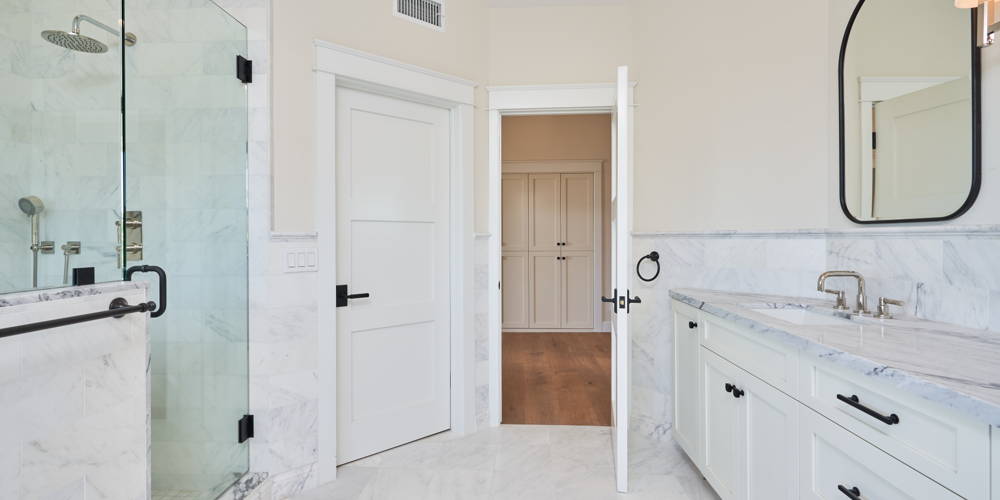 Crafting the perfect bathroom aesthetic involves more than just choosing paint colors and plush towels. Enter the unsung hero of bathroom design – the bathroom door! It's more than a functional element; it's a statement piece that ties your bathroom's aesthetic together.
Amidst the daily hustle, your bathroom is a haven for relaxation. From showers to daily preparations, the design and style of your bathroom door are crucial.
Stylish Door Options
In Dallas homes, whether classic or modern, various door styles complement different design themes.
Panel Doors: Timeless charm that fits into any style. Choose from the raised panel series for added sophistication or the beveled shaker series for a clean, simple look.
Mirrored Doors: Dual-purpose – a full-length mirror is perfect for outfit checks and it acts as a space-enhancing element, making your bathroom feel larger and more luxurious.
Privacy Considerations: Solid core doors increase privacy and offer great sound dampening. Want more natural light? Frosted or textured glass options provide both light while maintaining privacy.
Solid core doors are durable, humidity-resistant, and versatile in aesthetics.
Bathroom Door Hardware
Small changes, like switching from a round brass doorknob to a matte black lever handle, can elevate your bathroom's design. Coordinate with other fixtures for a cohesive look.
Your bathroom door is an opportunity to make a design statement, from classic panel doors to contemporary frosted glass. Consider your space, privacy needs, and overall design.
Discover the right door with One Day Doors & Closets of Dallas. Explore our collection or connect with our Dallas-based specialists for personalized guidance. Let's find the perfect door that elevates your bathroom!