Pantry Door Home Transformation with Jenn Largesse of 'This Old House'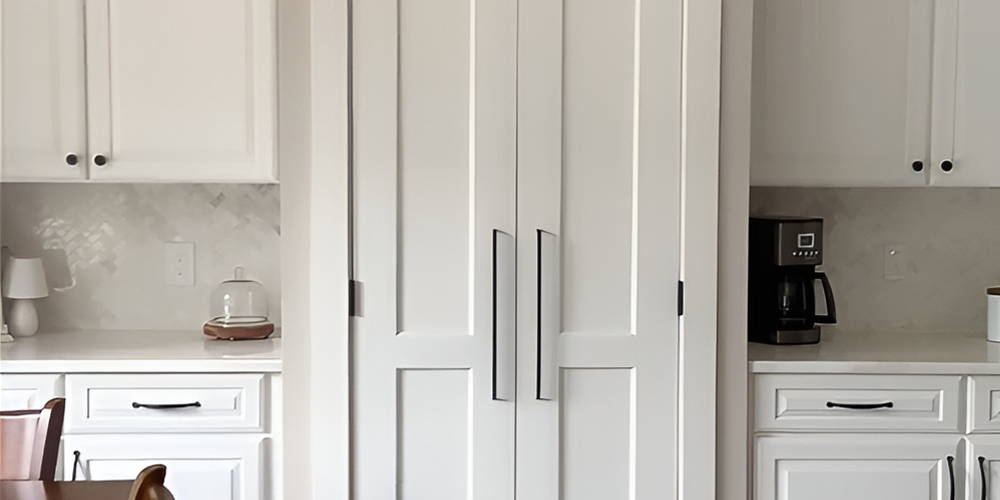 At One Day Doors and Closets, we're always excited to collaborate with talented individuals who share our passion for home improvement. Recently, our Cleveland Ohio Dealership had the unique opportunity to partner with Jenn Largesse, the creative force behind "House One" - a DIY show under the renowned "This Old House" umbrella.
About This Old House
For over 40 years, "This Old House" has been a cornerstone in the world of home renovation television. The Emmy-winning show, which first aired in 1979, has been guiding homeowners through the ins and outs of home improvement, restoration, and remodeling. With its team of experts, the show tackles everything from sprawling colonial homes to urban spaces, ensuring that every project is approached with craftsmanship, authenticity, and a deep respect for the home's original character. Beyond just renovations, "This Old House" educates its viewers, offering invaluable insights into the world of architecture, construction, and design. It's not just a show; it's an institution that has inspired countless homeowners to roll up their sleeves and bring their dream homes to life.
The Project
Jenn Largesse has been on a mission to transform her kitchen, taking on a DIY remodel that has captivated her social media audience. As part of her renovation journey, she recognized the potential of her pantry doors to elevate the overall design of her kitchen. That's where we came in.


Jenn reached out to One Day Doors and Closets with a specific vision in mind: she wanted swinging pantry doors that would seamlessly coordinate with her kitchen's design and cabinet colors. Given our expertise and the variety of our offerings, we were perfectly positioned to bring her vision to life.
The Process
Understanding the importance of cohesion in interior design, our team collaborated closely with Jenn to ensure the pantry doors would seamlessly integrate into her kitchen's aesthetic. Given her choice of the Leland Shaker Series for her pantry doors, it was paramount to ensure these doors not only functioned optimally but also resonated with the style she was meticulously crafting in her kitchen. The objective was clear: to establish a harmonious flow between the pantry doors and the kitchen cabinets, achieving a unified and sophisticated look that felt both deliberate and refined.



One Day: Home Transformation Process
Before we dive into the transformation, our team conducts an initial inspection of your doors. This allows us to understand the unique characteristics of your space and set the stage for a seamless transformation.


Post-inspection, we employ advanced 3D measurement technology. Every door frame in your home is meticulously measured down to 1/1,000th of an inch, ensuring a flawless fit for each door.


With the measurements in hand, we invite you to our showroom. Here, you can explore and select the perfect pantry door style and color that resonates with your vision and complements your home decor.


Based on your selection, each door is custom-made in our state-of-the-art factory. Every door is tailored to meet the unique specifications of your home, ensuring it aligns with your chosen space and style.


Our certified door installers handle the final step. With unmatched expertise, they ensure each door fits seamlessly into its frame, transforming your space with minimal disruption.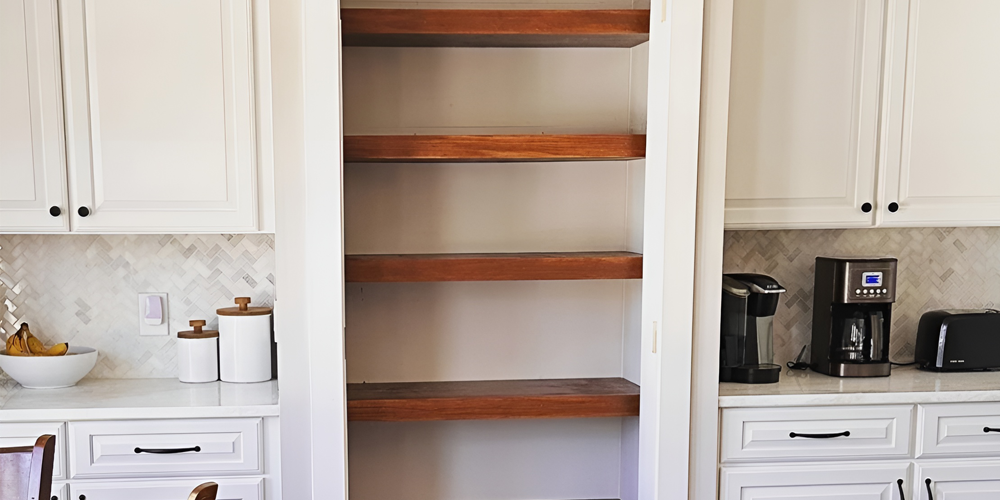 The Result
The transformation with the installation of the two swinging pantry doors was nothing short of spectacular. Not only did the doors impeccably match the kitchen cabinet colors as Jenn had envisioned, but they also introduced an added layer of elegance to the entire space. The decision to opt for swinging doors was the final touch to Jenn's kitchen remodel, providing effortless access to the pantry's contents and serving as a subtle yet impactful design statement.
But the magic didn't stop there. Demonstrating her DIY prowess, Jenn further enhanced the pantry's functionality and style by installing custom shelving herself. This addition perfectly complemented the new doors, creating a cohesive and thoughtfully designed pantry space that seamlessly blended with the rest of the kitchen.
Our collaboration with Jenn Largesse of House One, highlights our commitment to quality, precision, and design excellence. Whether we're working with a DIY enthusiast, a homeowner looking to refresh their space, or a professional designer, our goal remains the same: to transform homes One Day at a time.
For those interested in seeing the transformation firsthand, be sure to check out the video featuring the kitchen remodel. And if you're inspired to embark on your own home improvement journey, don't hesitate to reach out to One Day Doors and Closets. We're here to help every step of the way.
About Jenn Largesse
For those unfamiliar with the DIY world, let us introduce you to the talented Jenn Largesse. The creative force behind Build Basic, Jenn is a beacon for DIY enthusiasts. Every week, she crafts and shares DIY-friendly carpentry projects, proving that you don't need a treasure trove of tools or extensive training to create stunning furniture and accessories. Her detailed projects cover every step, ensuring even the most novice DIYer can follow along with ease.
Jenn's expertise isn't just limited to her platform. She's an accomplished instructional writer, builder, project designer, and web series producer. Her impressive resume includes collaborations with industry leaders like This Old House and Fine Homebuilding. Currently, she's the face of House One, a new venture by This Old House, designed especially for new homeowners and passionate homemakers. With features on platforms such as The Huffington Post, CNN Money, and Fox News Online Magazine, Jenn's influence in the DIY community is undeniable.