Which Doors Are Best for Bathrooms?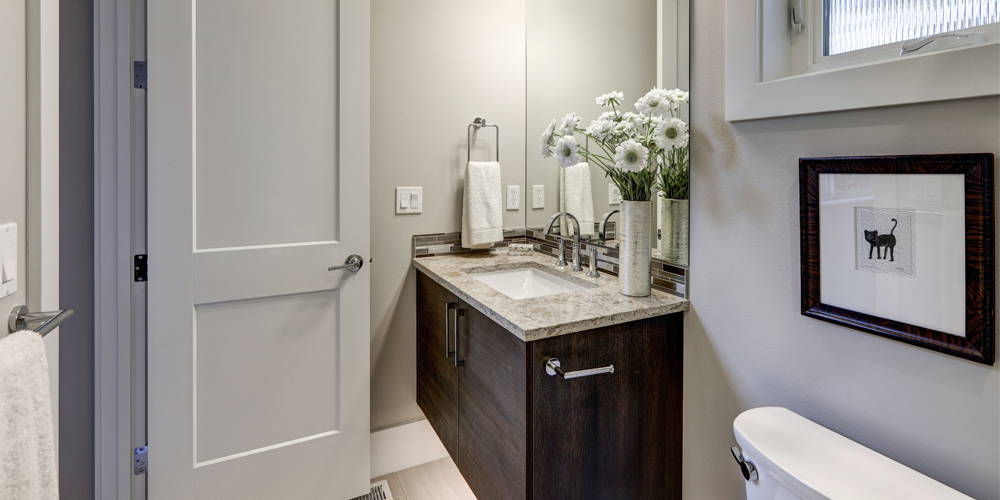 Bathroom design often focuses on the perfect paint color, plush towels, or chic accessories. Yet, the unsung hero of bathroom style — the door — remains a constant, setting the stage for your daily routines and personal retreat. The bathroom door is not just a functional element; it's a statement piece and a significant design feature that ties together the room's aesthetic. Unlike other elements you may refresh periodically, your bathroom door is a lasting investment that should harmonize with your bathroom and home's overall style.


In the bustle of daily life, your bathroom becomes more than just a practical space. It's a haven for showers, baths, and daily preparations — a tranquil place that equips you for everyday tasks and life's grand events. With this in mind, the design and style of your bathroom door become all the more crucial.
Popular Bathroom Door Styles

Every home, whether the style is classic elegance or channels a modern minimalist feel, has a door style that complements its overall design theme.


Panel Doors: Panel doors offer a classic allure, seamlessly fitting into traditional homes and many other styles. Typically crafted from wood or composite materials, these doors boast rectangular or square patterns that infuse depth and character into your environment. Our raised panel series, with its intricate line details, adds a layer of complexity, while our beveled shaker series offers a clean, simple look. Both options can provide the unique elements that your current bathroom door might be missing, further enhancing the allure of your space.

Mirrored Doors: A door with a mirror on the inside serves a dual purpose. It provides you with a full-length view of your outfit, makeup, or hairstyle, and reflects light to make your bathroom appear brighter and more spacious.

Privacy Considerations: Privacy is paramount when choosing a bathroom door. Solid doors offer the most privacy, but if your bathroom is lacking in natural light, a solid door with small glass inserts can be a good compromise. Frosted or textured glass can allow light while providing the necessary privacy.

Solid Core Doors: They are an exceptional choice. Their robust construction promises durability and resistance against high humidity levels typically associated with bathrooms. Beyond their endurance, they serve as excellent guardians of privacy, providing superior sound insulation compared to their hollow core counterparts. But the advantages of solid core doors don't end with practicality. In terms of aesthetics, these doors offer unparalleled versatility.

Doors and Humidity in Your Bathroom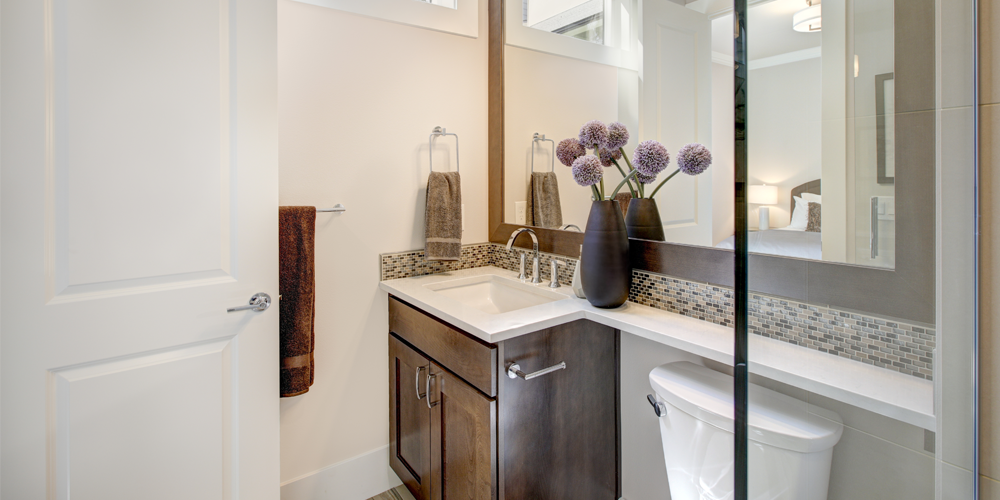 No matter the style of your bathroom door, it's crucial to remember that bathrooms are typically warm environments prone to condensation. Therefore, it's essential to manage humidity levels effectively to ensure the longevity of all bathroom elements, including your door. Make a habit of running your ceiling extractor fan for at least 30-60 minutes after a shower; its power can effectively clear damp air from the room.


If your bathroom includes a window, take advantage of it. Opening it not only reduces humidity but also invites fresh air into the space, allowing the bathroom to cool and dry thoroughly. Maintaining cleanliness across all bathroom surfaces, from the shower to the tub, helps prevent the buildup of mildew or mold.


For a more unconventional approach, consider leaving your bathroom door open during your shower when possible. This encourages cross-ventilation, another effective way to manage moisture and maintain a clean, fresh bathroom environment.

Bathroom Door Hardware
The impact of hardware on the overall aesthetic of your bathroom should not be underestimated. Switching from a traditional round door knob to a matte black lever handle can infuse the space with character and elevate its overall design. For a harmonious aesthetic, consider aligning the style and color of your door handle with other fixtures in the bathroom, such as the faucet and vanity drawer pulls. Remember, even these seemingly minor details, like the style of your bathroom door handle, can have a significant influence on the ambiance of the space, contributing to its overall charm and style.

Interior Doors for Small Bathrooms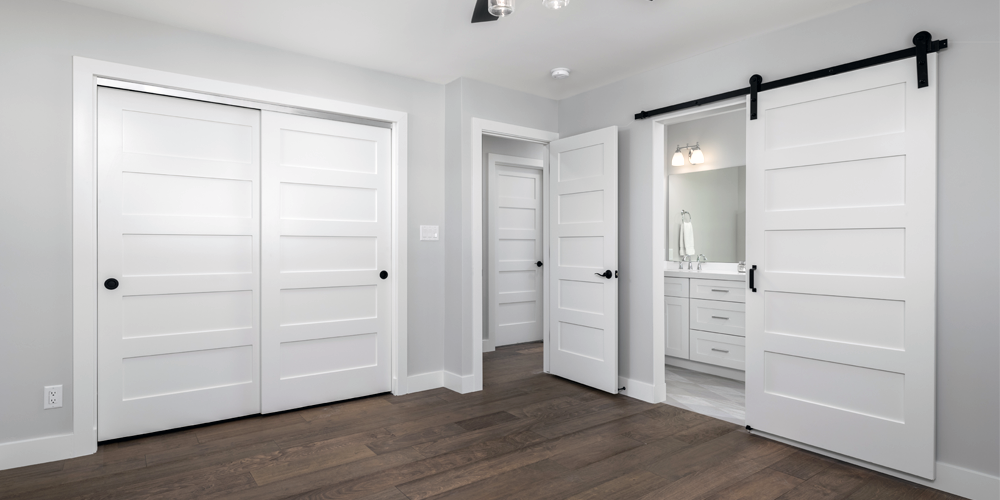 In the world of small bathrooms, strategic layout and design choices are paramount. Consider positioning your sink directly opposite the door to optimize the available space. Incorporating a darker accent or half-wall against white fixtures can lend a striking contrast, enhancing the visual dynamics of the room. Sliding or bi-fold doors serve as the perfect choice for such spaces, providing comprehensive access without consuming additional room. If your bathroom is situated with a view to a private outdoor area, a full glass sliding door can seamlessly extend your bathroom's space, fostering a sense of openness and making the area appear larger.


Barn Doors: Barn doors, rustic and full of personality, slide along a track and add an unexpected design twist. They're ideal for spacious bathrooms, creating an engaging aesthetic while saving space.


Pocket Doors: Pocket doors are a boon for rooms short on space. They slide into the wall when open, eliminating the need for clearance space required by a swinging door. They're a perfect fit for en-suite bathrooms or compact powder rooms.


Frosted Glass: Frosted glass doors strike a beautiful balance for those who appreciate the lightness of glass but require privacy. They allow natural light to filter through while keeping the view obscured, creating a bathroom space that's both bright and private. The reflective properties of the glass can also lend an illusion of expanded space, making your bathroom appear larger. Further, the elegant aesthetic of frosted glass can enhance the tranquility of your bathroom, transforming it into a refined, spa-like retreat. With frosted glass, you have the opportunity to create a sophisticated ambiance that caters to your privacy needs while also visually enlarging your space.


Your bathroom door is more than just a functional element–it's an opportunity to make a design statement. From traditional panel doors to modern frosted glass doors, there's a style to suit every home. Consider your space, your need for privacy, and the overall design of your home as you make your choice. After all, the perfect door can transform your bathroom from ordinary to extraordinary.


Discover the transformative power of the right door with One Day Doors and Closets. Our wide variety of interior doors cater to your distinct needs and style preferences. Browse our collection or reach out to our local door specialists for personalized guidance. Together, let's find the perfect door that not only fulfills your functional needs but also elevates your bathroom's style.