This Season- Fall in Love with New Interior Doors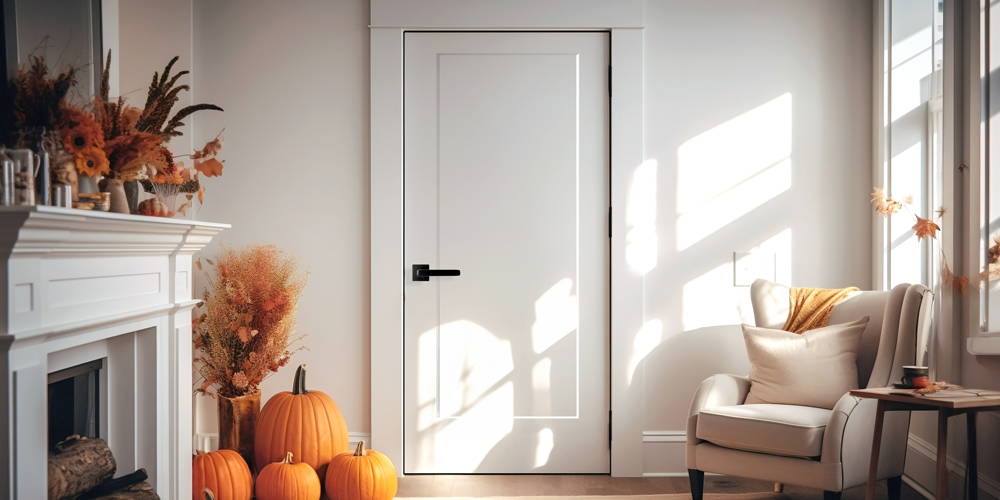 As fall arrives, it brings family gatherings, trips to the pumpkin patch, and the warmth of shared traditions. With all the festivities on the horizon, the thought of embarking on a major renovation project can be overwhelming. However, enhancing your home's style doesn't have to be a daunting task. With One Day Doors, you can effortlessly transform your home with new interior doors without any disruption, making it the perfect time for a seamless door update.
Why Fall is the Perfect Time to Replace Your Interior Doors


Fall is synonymous with family gatherings and age-old traditions. From apple picking to pumpkin carving, it's a time when our homes become the backdrop for cherished memories. As families come together, there's a heightened desire to ensure our spaces are welcoming and reflect our personal style. And while a complete overhaul might be out of the question, updating your interior doors can make a world of difference.


Beyond style, doors play a pivotal role in the functionality of our homes. They offer privacy, reduce noise, and can even allow for more natural light. With a new door, you're not just enhancing the look of your space; you're also improving its practicality. It's where style meets substance.


The anticipation of family gatherings, festive celebrations, and holiday cheer makes fall the ideal season to spruce up your home. A door update now ensures your home is guest-ready, exuding warmth and welcome. Plus, with the rich hues of fall decor, a new door can serve as the perfect backdrop, making your autumnal decorations truly shine.
How Does the Process Work?


At One Day Doors, we understand the value of family time, especially during the bustling fall season. That's why we've streamlined the interior door replacement process to be as hassle-free as possible with no interruption to your festive fall plans.


Our Process- begins by meeting with our interior door specialists, they can guide you through the entire process from start to finish. We inspect your current door openings and assess your interior door needs.


Our Advanced 3D Measuring Technology - ensures a precision fit door every time, marrying form and function seamlessly. Our measuring technology has precision accuracy – within 1/1000th of an inch to ensure the exact geometry of your existing door frames and hardware.


Choose Your Door Style - We have a door style for every preference and every room. Whether you're drawn to traditional or a modern interior door, we offer a variety of styles to resonate with your home. Each door is then carefully cut and trimmed by our high-tech machinery to ensure a great and consistent fit. Each door is inspected, beveled, and sanded in air-controlled booths. Our doors are professionally primed and painted with our advanced coating of paint, which is flash dried and thermally fused in an infrared oven.


Installed in 3 Hours or Less - Because every door for your home was custom made to fit and painted in our factory, the installation process is quick and easy – with no messy construction in your home. Our professional door installation team will quickly remove your old doors and install your brand-new doors.

How do I Choose an Interior Door Style?
Selecting the right interior door style is more than just a design decision; it's about capturing the essence of your home. Begin by considering the architectural elements and design styles both inside and outside your home. Aim for a door style that complements and enhances these features.


Remember, your door isn't just functional; it's a statement. It should blend seamlessly with your home's style, enhancing its overall appeal. Whether your home has a classic charm, a modern edge, or anything in between, there's a door style at One Day Doors tailored just for you. Let it be an extension of your personal style and the character of your home.
What Are the Most Popular Interior Doors?


The world of interior doors is large, with styles evolving to meet the diverse tastes of homeowners. Some of the most sought-after door styles include sleek modern designs, timeless shaker doors, and classic paneled options. Factors like material, finish, and hardware also play a role in a door's popularity. If you are looking for the most popular and trending door designs of today, we've dedicated an entire blog post to answering this very question, offering insights and inspiration to help you make an informed choice.
Welcome Fall with a Fresh New Look
As the fall season begins, don't let outdated doors dampen the festive spirit of your home. With One Day Doors, you're not just choosing a door; you're choosing a statement, a reflection of your style, and a commitment to quality. Let this fall be the season you give your home the upgrade it deserves, without the usual renovation hassles. Choose One Day Doors & Closets for your dream home makeover this holiday season and make a lasting impression on your guests.

Take the first step towards your home transformation. Contact us today to schedule a consultation.